My experience at PR Ventures' Startup Bootcamp Part 4
This is the last part of the four part series, if you want to read from the beginning click this link: My experience at PR Ventures' Startup Bootcamp Part 1, if you missed part 2 click this link: My experience at PR Ventures' Startup Bootcamp Part 2, if you missed part 3 click here: My experience at PR Ventures' Startup Bootcamp Part 3.
Recap
On the third session we had a PirañaTank with some improvement. Learned about markets, market segments, persona, and selecting a niche. We established the basis for Experiment #3. We were also introduced to some nifty tools to help us build our skateboard.
Homework
I don't have a real "persona" defined yet. However here's a glimpse of my market research.
The "security camera" Market
This market information I found during my research looks promising for my startup. The segment that interests me the most is that of the network camera. I was able to find insight on key positive and negative factors driving the market.
The market research institute IMS Research* forecasts that the total market for video surveillance (CCTV), covering for example surveillance cameras, recording equipment and video encoders, will continue growing. The total market was estimated by IMS to be worth USD 10,5 billion in 2011 and is expected to grow to USD 20,5 billion by 2016.
According to a new market research report "Network Camera and Video Analytics Market – Global Forecast, Trend & Analysis – Segmentation by Technology, Function, Resolution, Product & Service Type, System Architecture, Verticals, Application and Geography (2012 – 2017)" published by MarketsandMarkets (www.marketsandmarkets.com), the network camera and video analytics market, on the whole, is expected to reach $5,760.27 million by 2017, at a CAGR of 22.4% from 2012 to 2017.

The key factors driving the network camera market are the need for high resolution; reduction of total cost of ownership (TCO) backed by government investments and increasing demand from non security applications. On the other side, the network camera market growth is hammered by factors like high bandwidth requirements of network camera and lack of data privacy. Embedding the edge-based video analytics in network camera could add a competitive advantage to network camera manufacturers. The global network camera market is estimated to be worth $1.85 billion in 2012 and expected to reach $4.5 billion in 2017 at a CAGR of 19.5% from 2012 to 2017.

Canon sees surveillance cameras, which research firm IHS forecasts will swell by two-thirds to a global market of $23 billion by 2017, as a wide-open playing field with no dominant suppliers and an ideal target for its B2B ambitions.

HD Digital Security Camera Sales Projected to Surpass Analog Security Cameras in 2014 Says New York Security Camera Systems Installer Total Security – According to leading security camera installations company, Total Security, for the first time in history, high definition digital cameras are expected to collect more revenue than analog cameras in 2014 and demand could grow by 20% or more.
Google Trends
Google trends also provides some light on the subject with Interest Over Time and Regional Interest graphs with historical data from 2004 to present. Interesting that Puerto Rico ranks at fifth place, and Trinidad & Tobago (which never even crossed my mind) ranked first in interest recently.
Related searches show my keyword selection correlates with other similar searches, and helps me validate I selected a good keyword.
I took the top seven (7)  countries from my interest search from Google Trends, and ranked them from one (1)  to seven (7) . When I factor in my perceived* accessibility, size, and profitability, results point to United States, Puerto Rico, and Trinidad and Tobago.
Note: * = perceived for now, because I lack complete hard data to support the ranking.
Free detailed market data is scarce. I found market size estimates for South Africa and the US. Japan is said to be third in global size, after China and the US. But Japan didn't come up in my Google trends interest chart. I have to share my findings with the guys at Puerto Rico Ventures, to see if they can provide more insight on how to do this market research better. Note: The Market Size column is not used to compute the totals.
| | | | | | | |
| --- | --- | --- | --- | --- | --- | --- |
| | Interest | Accessibility | Size | Profitability | Market Size | Total |
| Trinidad & Tobago | 7 | 5 | 1 | 5 | ? | 18 |
| United States | 6 | 6 | 7 | 7 | 10,000M | 26 |
| Australia | 5 | 4 | 5 | 2 | ? | 16 |
| South Africa | 4 | 1 | 6 | 4 | 90M | 15 |
| Puerto Rico | 3 | 7 | 2 | 6 | ? | 18 |
| Ireland | 2 | 3 | 4 | 3 | ? | 12 |
| New Zealand | 1 | 2 | 3 | 1 | ? | 7 |
My Skateboard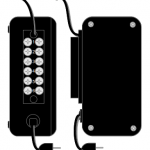 My product prototypes are ready, but it's not a complete skateboard yet. I'm working on it.
I want to create a complete system based on my prototype.
UPS protected NVR
UPS protected Wi-fi Router
UPS protected Wi-fi Range Extender/Repeater
UPS protected power for Camera
UPS protected Solar power for Camera
Because I  need to validate these and many other things directly, I'll be doing a "living with the customer" experiment shortly.
I will choose a catchy name for my product, instead of the (lame!) 12v UPS name, to give it a brand and distinct identity. Also create a new logo for it, and promote it using a separate domain and page, to make SEO, analytics, and A/B testing easier.
What we did on the fourth session
Ok. For the last time, here's my fast and furious overview of what happened:
Christian, Miguel, and Antonio shared their experience with their first Startup of the Week: DondeQuedaEsoPR.com They gave us an overview of how they did it, mistakes included, all the way to their first $210 USD in sales that same week. Great job guys!
#PirañaTank ™

PirañaTank Revolutions – Antonio led a merciless session, we only had one (1) minute to make our pitch. You don't know how short a minute is, until you try to squeeze your pitch into it! My pitch sucked even worse than the last time. I have come to realize that the first 10 seconds of your pitch are the most important. Your opening statement has to be supercalifragilisticspialidocious! You either have them at "Hello" or, well… you suck!

Christian pitched to us their next Startup of the Week idea.
We discussed pricing (very important), the AIDAru Funnel, and A/B testing. These are very valuable empirical concepts that often make the difference between victory and defeat. This discussion serves as the basis for Experiment #4 – A/B testing your pitch.
Use BFB = Big Fucking Button (visible 12ft away) on your call to action.
Checkout this great article by Douglas Karr from the MarketingTechBlog: Do's and Don'ts of a Successful Call to Action
When making sales, if customer doesn't buy, ask why, ask for referrals. If he does buy, ask why, ask for referrals, ask for any other thing he needs/like.
Homework – Experiment #4 – A/B testing your pitch. If you aren't ready for Experiment #4, continue to repeat Experiments 1-3 as needed until you are successful. Get ready for a Demo Day in two weeks.
Conclusion
We have reached the end of the Bootcamp, but it's clear things don't end here. I will break down my conclusions, for enhanced dramatic effect 🙂
Lead by example – I love to bitch and complain, as much as the next guy.  I even get a perverted and sick satisfaction tearing apart false tales of grandeur, unsupported claims, unrealistic achievements, and uncovering bullshit in any of it's many shape-shifting forms. However, Puerto Rico Ventures has earned my respect. They teach, they do, and they share their results, failures and successes. No Professor Pink Fingers here.
Letting go is not easy – Even when facing the data gathered from your own experiments, it's very hard to accept the hard facts when your ideas are proven incomplete, inaccurate, or just plain wrong. It's hard man! Yes, starting over is hard. Now stop being a cry-baby, and correct your hypothesis, or discard it and start over with your experiments.
"Try not. Do… or do not. There is no try." – quote from Yoda, in The Empire Strikes Back – It takes a good amount of thinking, and true experimentation to accumulate actual empirical experience, in order to develop real expertise. Let me say that again. It takes a good amount of thinking, and true experimentation to accumulate actual empirical experience, in order to develop real expertise. 'Nough said.
Propeller – I will join the Puerto Rico Ventures' Startup Propeller program, to enjoy continued access to their resources and community.
Promotion and help – I have also decided to help promote future Startup Bootcamps, and I will provide my help whenever possible.
Demo Day – Get ready for Demo Day in two weeks. Stay tuned for details.
Class dismissed! It's been a real pleasure. Thank you for reading!
Special Thanks
I'd like to thank Puerto Rico Ventures (Antonio, Christian, Miguel, Francisco) for this Startup Bootcamp. Keep up the good work! Special thanks to Andrés Martínez (Vacation Crowd founder and Code4PuertoRico.org collaborator) for sharing his knowledge, insight, and suggestions with us. And last, but not least, to all my fellow students (Rafael, Yin, Víctor, Néstor, Toni, María, María, Martha, and others)  that participated in the program, I wish you happiness and success!
About Startup Bootcamp
Startup Bootcamp is a program where you learn to create a startup, validate your business idea, and make your first clients, without risking your time or money. It is an initiative of Puerto Rico Ventures.
About Puerto Rico Ventures
Puerto Rico Ventures' goal is to support the entrepreneur community in Puerto Rico. We contribute by providing essential elements of the startup ecosystem. We believe that startups are the key to the economic future of the island, and help provide a strong foundation to anyone that is willing to launch a startup.
Copyright Notice
All trademarks mentioned herein belong to their respective owners.